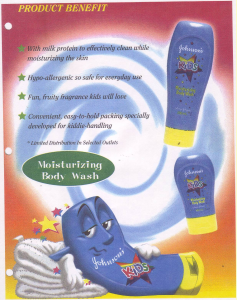 In the mid-Nineties, Johnson & Johnson Asia Pacific commissioned 200 designers to submit proposals for their redesigned Kids' Shampoo line. Traditional upright shampoo bottles with their covers on top were routinely being left open by children, leading to the contamination of the product.
DDI Founder Mark Victor Bautista worked with Johnson & Johnson's Beth MacDonald on a time-and-motion study with parents and their children ages 4 to 8-years old to develop an upside-down shampoo bottle with a large, easy-grip cap.
DDI's submission landed in the top 10 concepts chosen for the final product, and was eventually released worldwide. It would mark the beginning of a fruitful relationship with Johnson & Johnson Asia Pacific that would lead to more DDI designed products being distributed globally.