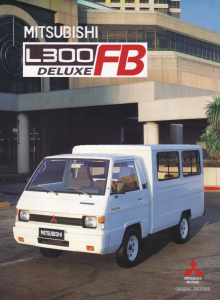 The Mitsubishi L300 FB has been one of the most ubiquitous vehicles on Philippine roads for more than two decades. The versatile body design now made famous by thousands of school buses and delivery vehicles was created by DDI under commission of the Almazora Motors Corporation in 1994.
The company reached out to DDI after having their previous five body proposals rejected by Mitsubishi Motors. The changes implemented by DDI included the installation of rubber lining to prevent water seepage, and a redesign of the seat benches to create more flexibility in carrying both cargo and passengers. DDI also designed the factory in which the L300 FB was manufactured, and the increased efficiency of production allowed over P12,000 worth of accessories to be added to each vehicle without increasing its retail price.
Demand for the vehicle remains strong, and shows no sign of slowing down well into the 21st Century.